Partners in Cream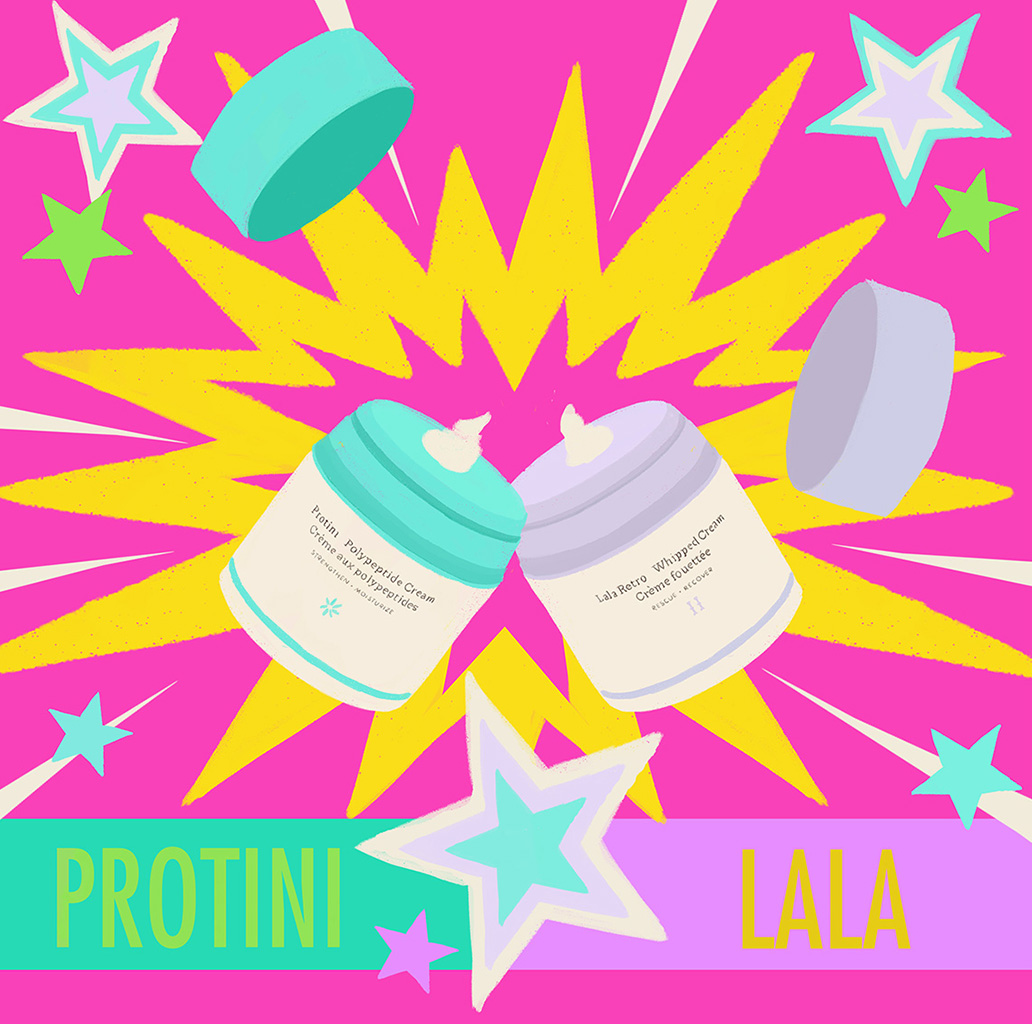 Partners in Cream
SEPTEMBER 26, 2023
Are you a Lala person? Are you a Protini person? Are you a sometimes-both person? Are you an I-live-in-a-tropical-rain-forest-deep-in-Brazil-and-Mother-Earth's-natural-mist-is-my-only-moisturizer person? Well, let's find out. Except for you, citizen of the rain forest—you can go back to your canopy now.
1. What's your favorite texture in a moisturizer?
The lighter the better


As rich and indulgent as a suite at the Ritz


Well, that depends…


2. What's your biggest skin concern: loss of elasticity, dryness, or both?
Loss of elasticity and sagginess


Dry skin, flakiness


Why do I have to choose?


3. Are you a type-A hustler or a type-B chillaxer?

Rise and grind, baby


It's a good day to sleep in


Why not both? Work hard, play hard, people!


Mostly As?

YOU'RE A FIRM BELIEVER

Protini is your jam. Protini is our lightweight but hardworking peptide moisturizer, loaded with amino acids and protein to deliver daily moisture and strengthen the skin barrier while firming skin and restoring bounce. And Protini is a whiz at improving the appearance of texture, tone, and fine lines—ergo, the get-sh*t-done-cream.

Fun fact: Protini's powerful peptide benefits were inspired by Drunk Elephant founder Tiffany Masterson's mother—around here we call her Mama Mia—because she wanted something for collagen support.

Mostly Bs?

HEAD TO LALA LAND

Lala is our ceramide-rich, whipped rescue cream that intensely, deeply moisturizes while it protects against environmental stressors. Think of the ceramides in Lala as the mortar and skin cells as the bricks: Lala replenishes the skin barrier while maintaining skin's moisture balance.

Fun fact: Lala's texture was a happy accident: Tiffany was making salad dressing, slowly pouring olive oil into a blender. She got pulled away, and when she came back, the oil had been whipped into a thick, fluffy texture—a precursor to Lala's decadent texture.

MOSTLY Cs?

YOU'RE LIVING THE CREAM

Of course you can have it both ways. Alternate between Protini and Lala or mix them together—yes, you can—to reinforce skin's defenses against environmental stressors and deliver firmer, more radiant, deeply moisturized skin.


Fun fact: Our moisturizers are now refillable, reusable, and relovable. Shop Protini refills here and Lala refills here to save plastic and make them last longer.

Like all our products, our moisturizers are silicone-free and biocompatible with skin, so they're highly absorbable and can be easily mixed together. Mix them with any Drunk Elephant serum, treatment, or oil in the palm of your hand and apply all at once—that's what we call a skincare smoothie.

Need some ideas? Check out our Smoothie Glossary.