Travels with Tiffany
Travels With Tiffany
SEPTEMBER 26, 2023
Between events, new launches, and having four kids, Drunk Elephant founder Tiffany Masterson is usually on a plane, on her way to a plane, or getting ready to be on her way to a plane. Recently, when she was getting ready to travel across eight time zones, we got her best skincare—and non-skincare—travel tips.
If I'm traveling during the day, I cleanse my face and apply my regular morning skincare smoothie, plus my sunscreen. Usually that's a mix of C-Firma Fresh, F-Balm, and a few drops of A-Gloei and D-Bronzi. UV light passes through plane and car windows, so Umbra Tinte is always my final step.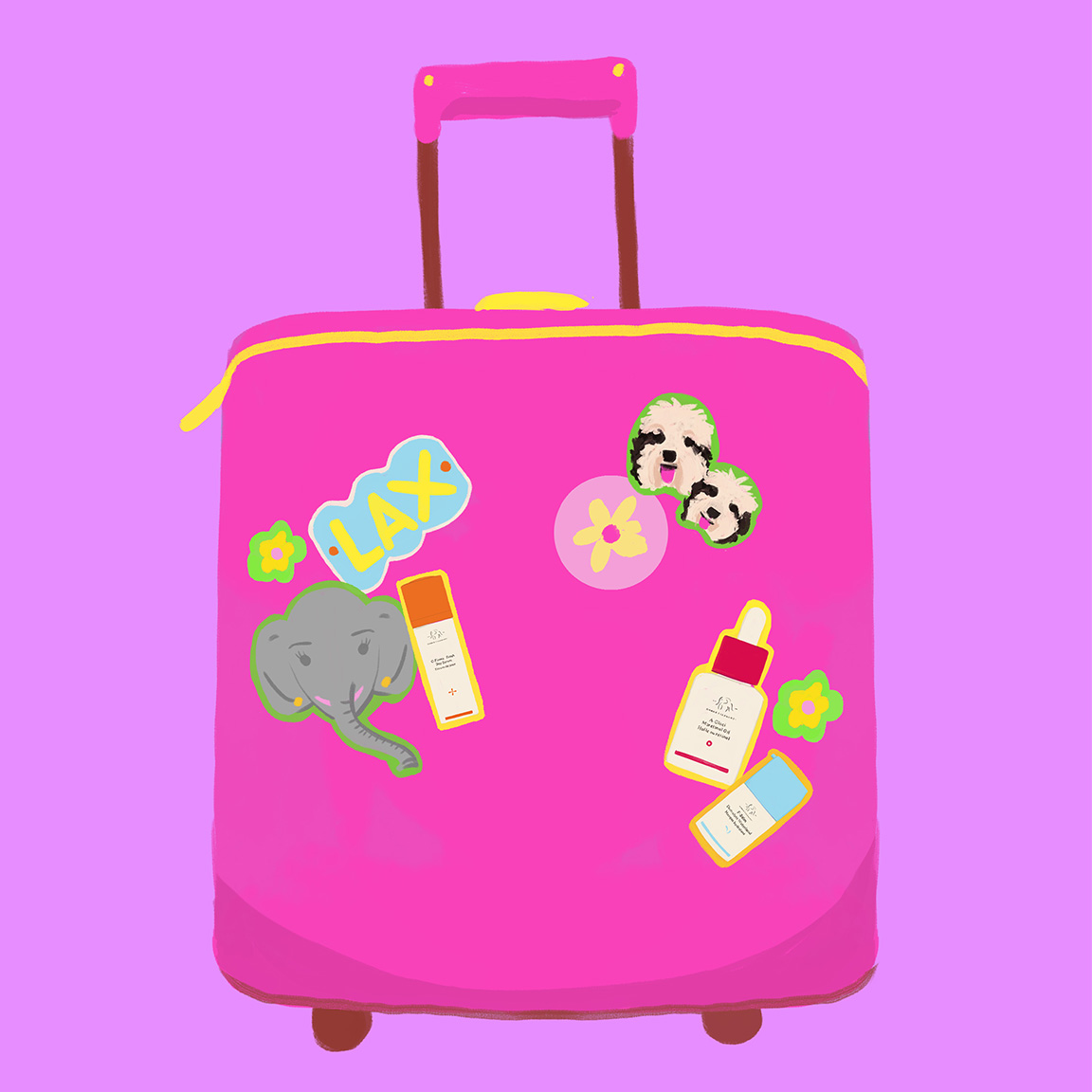 If I'm leaving at night, I skip the sunscreen. I pack E-Rase Milki Micellar Water with cotton pads in my carry-on so I can wipe off the plane grime during the flight. I follow that with a mix of F-Balm and Protini Cream for intense hydration up there. I also pack an eye cream—Ceramighty or lately our new A-Shaba—and Lippe, which I reapply multiple times during the flight. My skin doesn't really get cranky because I keep it clean and really moisturized when I travel.

On the flight, I drink loads of water, skip caffeine and alcohol, and try to eat a lighter but protein-heavy meal or snack. If I want to get some rest on the flight, I take a melatonin. I also bring a packet of Athletic Greens supplement powder for the end of the flight (I like to mix it with cold water) for all my vitamins, minerals, probiotics, and adaptogens.

I bring a big shawl—like blanket big—that folds up neatly in my carry-on. Every time I travel, I find new uses for it: blanket, scarf, eye shade, pillow, whatever. It makes an airplane seat a lot more comfortable.
Your stomach has its own clock, so if you're up at 3 a.m. and starving, try to hold out until breakfast.
Once I land, my best tip for fighting jet lag is to eat at proper mealtimes in the new location. Your stomach has its own clock, so if you're up at 3 a.m. and starving, try to hold out until breakfast. It makes jet lag end a lot sooner.

I'm a big fan of Andrew Huberman—he's a neuroscientist and an associate professor of neurobiology and psychiatry and behavioral science at Stanford University. (I highly recommend his podcast!) In one episode, he explains that one of the most effective ways to get rid of a headache is by eating foods rich in omega-3 fatty acids and turmeric. He also suggests acupuncture and peppermint oil, so if I feel a travel headache coming on, those are my go-to solves.